Story 17: Scott Rechler, RXR Realty CEO
Many foreign real estate companies have been showing interest in Korea as of late. Global real estate companies such as Rob Spire, CEO of Tishman Speyer, who recently formed a USD 1.5 billion joint venture with the National Pension Service, and Moses Song, CEO of Singapore ARA Asset Management, which is also investing heavily in Korea, came to Korea to find opportunities to work with Korean institutional investors. RXR, one of New York's leading real estate companies, is among such visitors. Key RXR executives, CEO and Chairman Scott Rechler, President Michael Maturo, and Robin Henderson Senior Director Private Capital Group, visited Korea to meet with institutions. Scott Rechler recently was named in the Commercial Observer Power 100 list, coming in second just after Blackstone's Jonathan Gray. I got the chance to interview Rechler during his visit to Korea last November.
Previously, Thomas Yoo, CEO of Willow River Capital Management, has written for SPI about RXR Realty and other New York developers.
---
-Please tell us about RXR. 
"RXR was founded in 2009. Our mother company is Reckson Associates which was founded in 1968. Reckson Associates was listed on the New York Stock Exchange in 1995 and sold to SL Green in 2007 for USD 6 billion. When Reckson Associates was sold, the primary interest was in changing customer demands, including changes to demographics and technology that influenced how people work and live, and the needs of urban environments. Our strategy was to take a step back to understand the situation in the world so that we could have a better idea of the direction we were headed. Our investments were focused on going with the flow of those changes."
-Could you tell us about the investments you have made since you returned?
"When we returned to the New York office market in 2009, we purchased several office buildings favored by tech companies and knowledge industry workers. These include 1166 Ave. of the Americas, 340 Madison, Starrett Lehigh, and 620 Ave. of the Americas. We wanted to understand the people who worked in those buildings and their needs. Realizing that there was a need for more affordable housing, we strategized to develop affordable housing through public private partnerships. We subsequently gained experience in developing suburban communities connected by public transit to Manhattan. We've since developed 250,000 sq. feet of office space and 7,000 multi-family residences. Given the oversaturated office market, we've branched out to invest 1.1 million square feet in logistics centers for e-commerce companies such as Amazon, infrastructure like terminals 6 and 7 of JFK International Airport, and projects led by other developers. We also invest in loans."


-What makes you different from other real estate companies in New York?
"I think we are very unique. Most New York companies operate mainly in Manhattan and tend to focus on office buildings. RXR is different in that we focus on real estate development in and around New York, not just in Manhattan. We also have a wider variety of projects on top of office buildings, such as multi-family, logistics, and infrastructure. I take great pride in working on complex and diverse projects and figuring out how to make them work. I especially like to learn how people live and work, and how urban environments like New York City operate."
*If you look at the trading status of RXR from 2009 to 2016 and from 2017 onwards, you can see that their investment has undergone significant change. Only one office building has been acquired since 2017. Instead, has increased its share of other sectors, including residential, logistics, self-storage, life science, and healthcare. Reckson Associates, the predecessor of RXR, had previously invested in American Campus Communities, a student dormitory REIT in the United States established in 1997, and listed on the New York Stock Exchange in 2004. This history appears to have also helped to expand the housing business they've been active in recently.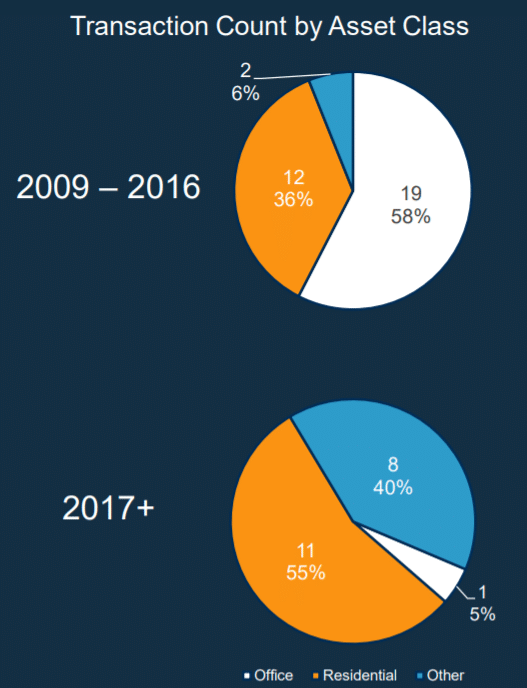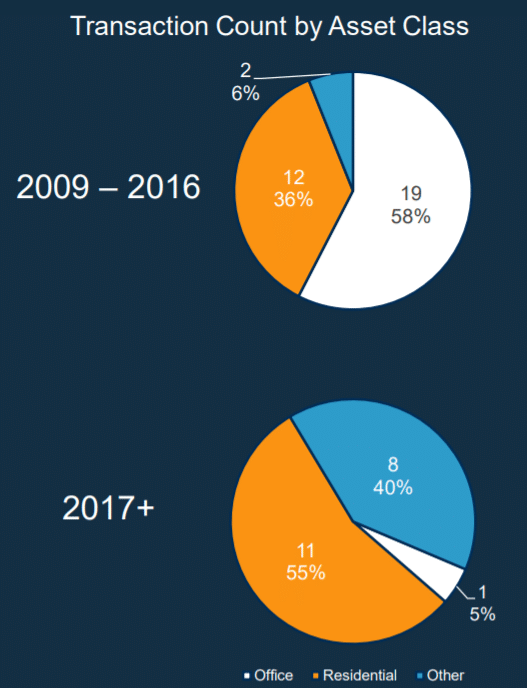 #RXR Methods and Opportunities
-Unlike other New York real estate developers I have seen, it stands out to me that you've engaged in a lot of public private partnerships. It's impressive to see how it affects the assets, but also the entire community.
"RXR has been dealing with PPP projects since the days of Reckson Associates. American Campus Communities was one of those projects. PPP projects help us learn how to connect the public and private sectors and how much community prosperity adds to the value of assets within it. Assets will depreciate if you aren't in a sustainable or economically viable area. This is why we value community sustainability and use the assets we develop as economic generators."
-What kind of efforts are being made to ensure that the development project can contribute to the economic development of the entire community?
"We provide vocational training to people living in the communities where we are working on development projects, and we also work with local businesses to help them gain new clients. In the process, they try to buy what they need from the community, run internships with local schools, and collaborate with public safety initiatives. It's important to recognize the importance of the whole ecosystem and building a sustainable economic community. That's the only way our development business will work in the long run."

-We talked about the differences from other New York developers before, but it seems that there is a big difference in the way you work as well as the difference in the projects you've done so far.
"Actually, we have a lot more expertise in a wider variety of sectors and I think that's what sets us apart from other companies. For example, other companies don't have multi-family, logistics center, or infrastructure development teams. Given our expertise in various fields and projects, we're able to utilize the entire community ecosystem to bring real change to the local community. We even have whole community engagement team, something no other company has. This team was created so that we could better contribute to the economic growth of local communities, which is part of our mission. We also have a section that evaluates the social impact of development projects. We don't evaluate the success of a project based solely on financial results, but on social impact, environmental sustainability, and how it contributes to job creation."
-After completing a number of projects and forming close ties with local communities, you may be finding opportunities in areas that other competitors might not have access to.
"We specialize in complex manufacturing opportunities. This means that we discover differentiated investment opportunities that are not available to our competitors and we're able to problem-solve creatively. I'll give you a few examples. COVID-19 has caused investors to search for last-mile logistics centers. But in New York, there isn't much land to build on. Even if customers like Amazon or FedEx find the land they want, it can be difficult to access due to complex issues such as ownership and the environment. But we can buy those projects, solve ownership and environmental issues, and attract companies like Amazon, offering great opportunities for investors. Beyond this, the JFK International Airport Terminal 6 project, which has recently been approved by the New York-New Jersey Port Authority, is a very rare investment opportunity. There's also the project to redevelop the Hyatt Hotel located right next to Grand Central Station, a one-of-a-kind investment opportunity. The fact that it is located right next to the Grand Central Station is something that cannot be replicated. Similarly, the JFK International Airport Terminal 6 project cannot be replicated either. What I want to emphasize is that we are the only ones who have identified investment opportunities like these." 
*RXR is currently redeveloping the Hyatt Hotel located right next to Grand Central Station.
#Paradigm Shift and Opportunity
-If you talk to Korean institutional investors, they predict that next year will be a difficult year. In particular, in the US, prices have risen a lot this year and there is a lot of 'dry powder', so there are a lot of concern about high valuations. There are institutions being very conservative about new investments for this very reason. What's your opinion on this?
"I agree than the US real estate prices are overall very high right now. This is even more true for a specific sector with high demand. But we think that overvalued markets can be avoided by preferential investment in off-market deals and manufacturing opportunities. Our vertically integrated teams, our public sector expertise, and our willingness to manage complexity enable us to deliver with confidence on complex projects that many competitors might overlook. The logistics center development project currently underway in Brooklyn is a good example. Many of our competitors have missed the opportunity because of the cleanup work needed, but we have managed solve this complex problem, and we are now almost finished and can begin construction of our state-of-the-art logistics center."
-RXR seems rather aggressive in implementing its strategy.
"Well, that's true. We're experiencing a paradigm shift right now of the likes not seen since WW2. Real estate has not changed much since the 20th century, but now, the way people work is changing, which means the way real estate is used is changing along with it. There is also a digital transformation underway. We need to be able to provide investment opportunities to our investors, understanding the changes and creating products to respond to them. I think we are in that situation right now. That's why we're actively investing and expanding so quickly."
*RXR's flagship fund is the 'Mega Trend Fund'. The investment strategy is to hop onto new mega-trends arising after the pandemic and invest quickly. For example, sectors such as logistics centers, streaming service-related assets, healthcare, and residential facilities are benefiting from the growth of e-commerce.
-What are you doing to be able to jump onto mega-trends and seize opportunities?
"I explained earlier how much we are involved in the community so that we can understand what is happening on the ground. Not only that, but we spend a lot of time trying to figure out the macro-level changes happening in the world. We spend a tremendous amount of time analyzing what is happening from a political and economic perspective, and how those changes will affect the markets in which we invest and operate, and how they will affect our customers. At the beginning of every year, we spend three or so weeks researching macroscopic trends to write a 50-100 page white paper. The white paper helps us make adjustments to our investment strategy, including investments into new sectors."
*CEO Scott Rechler was also appointed to the Board of Directors of the Federal Reserve Bank of New York in November. RXR CEO Scott Rechler is one of the most influential figures in New York's commercial real estate market, and they seem to appreciate his ability to evaluate economic cycles in real time.
-Looking at the organizational chart of RXR, 'Digital Lab' caught my eye. Real estate companies have recently shown interest in technological advancements, but I haven't seen many companies with something like your digital lab. I also understand this is a way to react to the great paradigm shift.
"The idea of creating Digital Lab is something that arose from the white paper. We formed a team in cooperation with McKinsey and Microsoft with 25 people, including data scientists and product development engineers. Digital Lab, together with RXR, has created the groups on urban living, urban workplaces and urban experiences to meet with customers and property managers and explore ways to improve customer experiences. It's attracted attention especially by creating products that help people return to work safely after COVID-19."
#Beyond New York
-RXR has made an aggressive push beyond New York to across the US. I'm curious about the background.
"New York City certainly is attractive to top talent, but other American cities are also capable of attracting a number of young professionals. We call these 'superstar' cities. Superstar cities succeed by creating an environment where people who can't afford to live in the city where they work to live within a 30-minute train ride. People can live somewhere with a 50% reduced cost of living thanks to a well-built transportation system, but this ecosystem has to be developed so that you can return to the city whenever you want. The New York metro, Boston, Denver, Seattle, Phoenix, Florida, Miami, Orlando, and Austin are all examples of superstar cities. Expanding investments across the United States is another way we are unique among our peers in New York."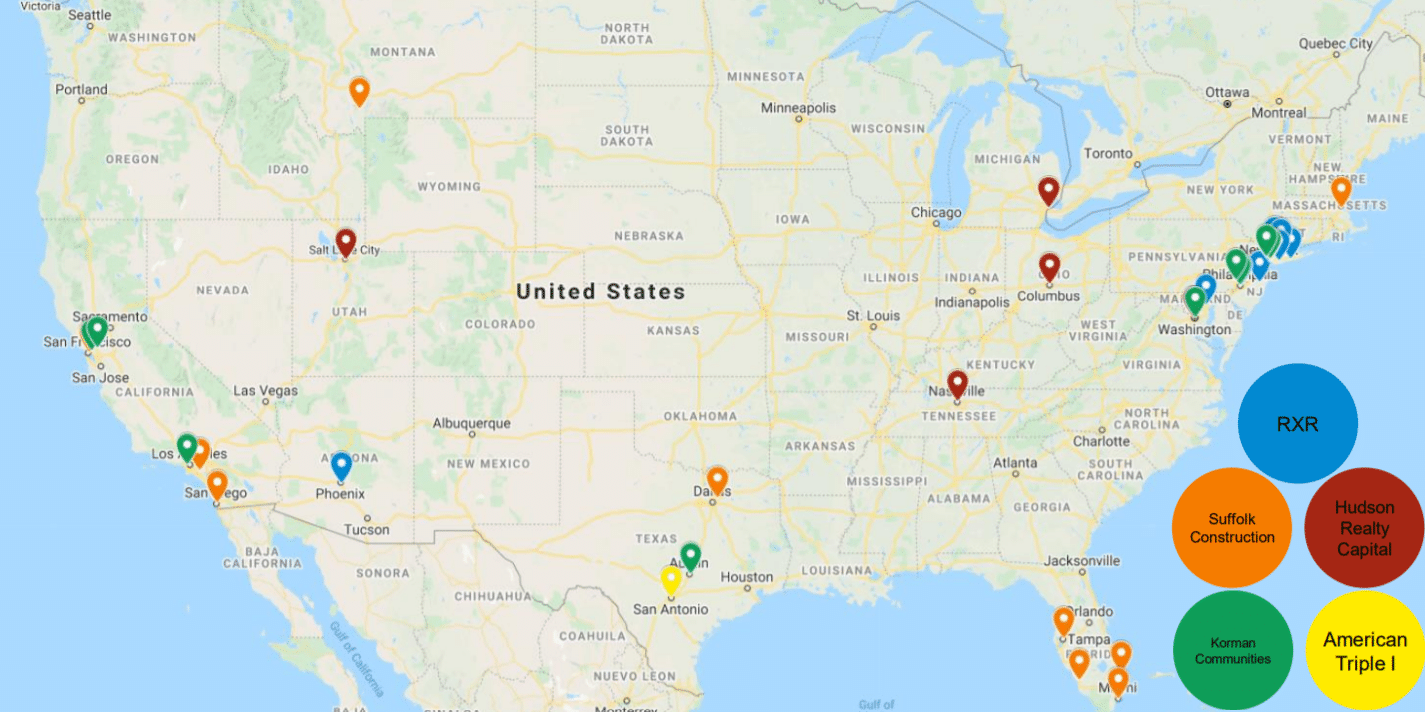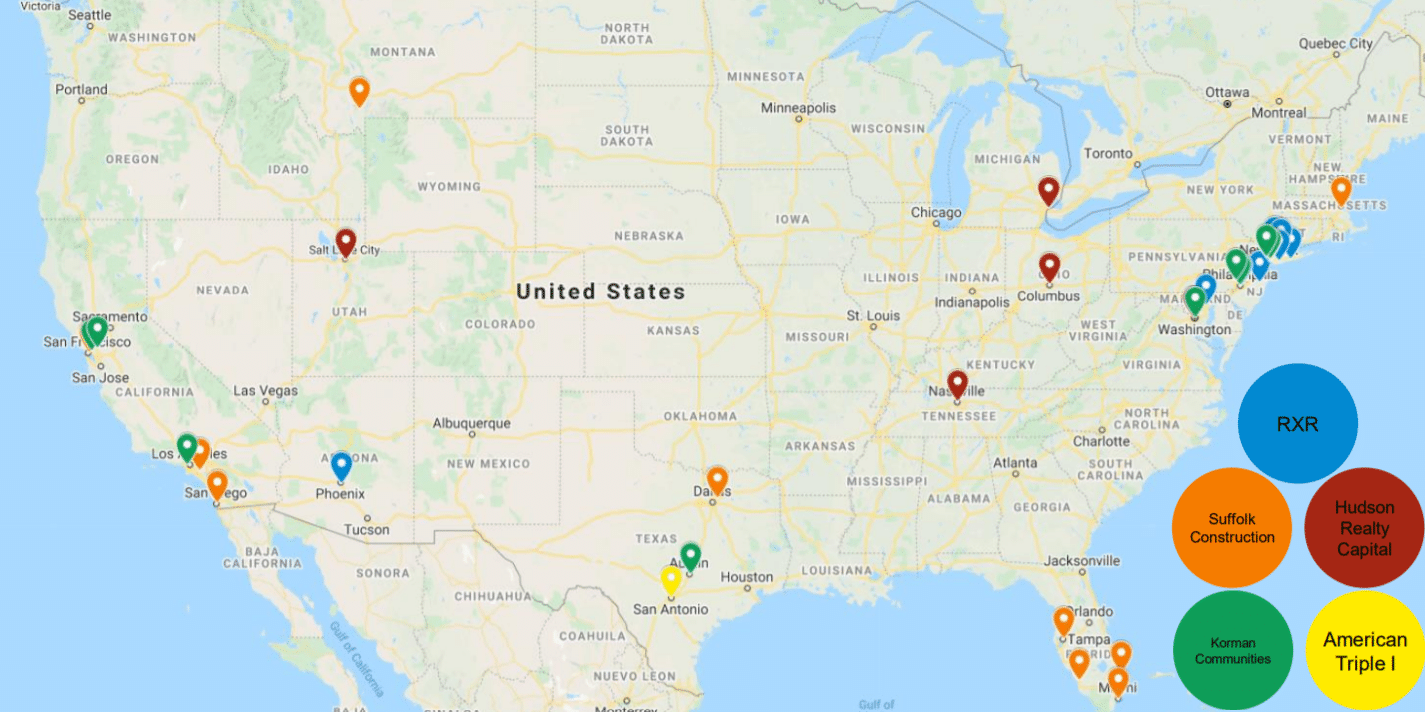 -We are seeing huge changes in the macroeconomic environment, such as inflation and interest rate hikes. Which sectors do you see as attractive in the future?
"Real estate is a fixed asset with a short rental period, so rents can be raised more often, providing a strong inflation hedge. This is especially true for multi-family residences. If possible, the risk of inflation should be minimized by fixing debt at a fixed interest rate and guaranteeing the GMP for development projects. RXR has also created an inflation committee to monitor recent inflation trends and minimize risk generally."
-This is a question related to logistics centers, which has recently received plenty of interest from Korean investors. Logistics centers are often located on the outskirts of cities, but many point out that investments should be made with caution as technological development can cause major changes in the location of logistics centers in the future.
"I generally agree with this view. We're prioritizing the development of non-replaceable, last-mile logistics centers with easy access to highways and a large population bases."
-Finally, I would like to close by asking a question about the New York market that RXR knows best. In Manhattan, the recent development of Penn Station and Hudson Yards has led to a major shift in the office market. If you had to choose the most attractive investment in Manhattan, which would it be?
"I think Midtown has the most attractive office market. The situation in the rental market after COVID-19 supports this. Tenants are increasingly looking for buildings in areas with convenient access to transportation and choosing Midtown because of the proximity to public transport hubs. This year, the office portfolio we own in Midtown has had a higher rental rate than other areas. SL Green's new office building, One Vanderbilt next to Grand Central Station, is a good example. At the beginning of the COVID-19 outbreak, One Vanderbilt's rental rate was 67%, but even during the worst period of the pandemic, several important rental agreements were signed, resulting in more than a 90% rental rate. One Vanderbilt's success gives us confidence in the projects we're developing near Grand Central Station."
※Editor's note: If I could summarize my impression after this interview, I would say that RXR is a real estate company that can solve diverse and complex problems while discovering opportunities no one else can.